Posted on
By Louise's Pet Connection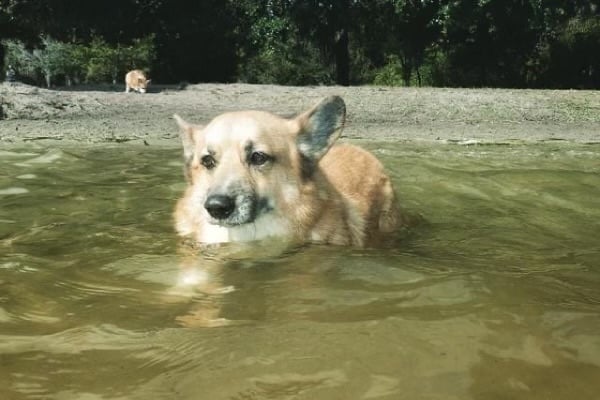 Summer's here which means you and your pet are living your best life spending days outdoors in the sunshine with adventures to your favorite beach, lake, or trail.
Summer's here which means you and your pet are living your best life spending days outdoors in the sunshine with adventures to your favorite beach, lake, or trail. You have a ton of summer activities to check off your list but to check each one off with your dog means making sure you're thinking of their safety and any dangers they could come in contact with. That's why we've compiled these great tips to keep you and your pup skipping through the summer months without a care in the world.
As soon as you step out of your house you're immediately hit with that summer heat and humidity, but the air isn't the only thing heating up. Before you take your pup out on a trek around town stop and check out the asphalt. Depending on the time of day and the temperature outside your streets and sidewalks can burn your pets sensitive paws. A great way to tell if the asphalt is too hot is by placing your palm down on the pavement. If the temp is too hot for you it's definitely too hot for them.  When the temperature outside reads 85 degrees the temperature on the ground is much much hotter at about 130 degrees and as the air temperature rises so does the temperature on the ground. It only takes 60 seconds for skin damage to occur on hot pavements. To avoid this make sure to walk your dogs in grassier areas. The streets aren't the only place you have to worry about temperature, it should go without saying but never ever leave your dog in a turned off car.  It doesn't matter if you think you'll only be away for a few minutes or even if you crack the windows. It gets hot and the inside of your car will turn into an oven in minutes.  On an average hot summer day it takes less than 5 minutes for the temperature in your car to reach over 100 degrees. Even if your pup loves riding in the car with the windows down it's best to leave them at home if they can't go in everywhere with you. So plan ahead for pet friendly places to visit like Louises for your pet to have an enjoyable day. 
One of everyone's favorite places to visit on summer vacation is the beach. Being in Florida means we have plenty of dog friendly beaches to choose from that your pups are sure to love. Frolicking along the shore and digging in sandy holes are a dogs paradise and putting up a nice umbrella will give your pet a shady spot to relax. Always make sure to bring plenty of water for your pups as the saltwater can make them incredibly sick and dehydrated so try to keep them from drinking it as much as possible. The sand, while tons of fun, can also be dangerously hot later in the day so always make sure to sink your own toes into it first to ensure it's not too hot for your pets paws. The water and waves can be your pet's favorite part of the trip but beware of jellyfish along the shore as these sea creatures are harmful to both you and your pet. Rip Currents are also something to be made aware of. Always stay in shallow water with your pets where you can stand securely.  It's also important to note not all dogs are great swimmers so keep an eye on your pups amongst the waves. Life Jackets are great for any dog, strong swimmer or not because any animal will tire eventually. As your beach day comes to an end it's also a good idea to give your pets a nice rinse off to cool them off and to get that sticky salt water and sand off of them. One thing's for sure on a day like that they are sure to sleep the entire car ride home.
Hiking is another great activity that most people enjoy and love taking their pets along. With a variety of trails to choose from it's an activity that can keep you busy all summer long.  Bring along tons of water for this as staying hydrated is key to a healthy happy trip. Heat exhaustion is real and many dogs suffer its effects every year especially smooshed faced dogs. Signs of an animal suffering from heat exhaustion include excessive drooling, wobbly legs, vomiting and diarrhea. Keep your pups out of direct sunlight with breaks under a tree canopy to help keep them cool and of course constant water breaks. While you might be able to hike miles and miles in the hot summer sun most dogs cannot so it's important to note their limits as they don't sweat like we do to cool off. Panting is to dogs what sweating is to us. When a dog pants they breathe air quickly over the wet parts of their mouth and lungs. The pants accelerate evaporation which cools them. It's also a good idea to familiarize yourself with any and all venomous snakes native to Florida before your hike as well. The last thing you want is to stumble along a panicked snake with your more than curious pup. It wouldn't hurt to brush up on your native plant knowledge as well to avoid any poison ivy or other vegetation your pet could accidentally eat and become ill from. Hiking can be a great form of exercise and adventure for your pet as long as you keep an eye on them and their needs. Ending the day in a cool watering hole might sound like a good idea but it also comes with a very large risk. To northerners not swimming in lakes probably sounds absurd but alligators are everywhere here. The FWC caution both natives and visitors that alligators can be in even the smallest bodies of water including the pond by your house. Whether it's an actual lake or a small body of water in your backyard alligators will find a way to be there. Warmer weather means more active and visible alligators. Most natives know how to coexist safely with alligators but always remember to keep your distance from the shore lines and never try to feed an alligator. For the most part alligators will mind their own business but they are predators and your dog is a meal source. Alligators are wild animals who naturally seek out smaller prey. They usually wait along the water's edge to ambush these small mammals. 
Enjoying the summer with your dog can be done easily as long as you do so smartly. Keeping their thirst quenched while enjoying the sun while also knowing when to say when for your pets means being the best pet parent you can be. Following these tips will have you both sunkissed and safe all summer long!