Posted on
By Louise's Pet Connection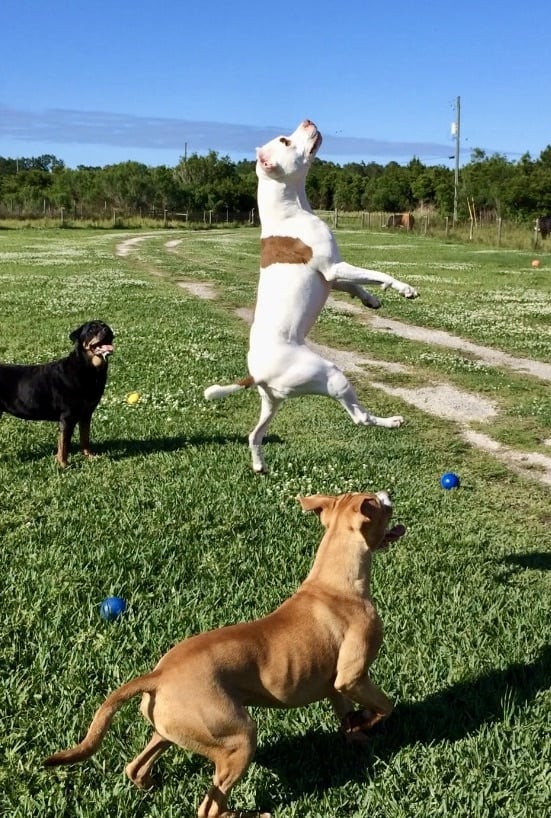 2020 is finally over and even your pets are relieved! We really need to start off on the right paw this month and what better way to step into 2021 then by doing what we do best, making sure your pets stay happy and healthy.
2020 is finally over and even your pets are relieved! We really need to start off on the right paw this month and what better way to step into 2021 then by doing what we do best, making sure your pets stay happy and healthy. From giving their bowls a much needed boost to keeping them up and moving, your pets are sure to live their best life yet in 2021!
Exercise, we need it and so do our furry companions! Getting outside with your pets or even partaking in some indoor activities are really important in keeping your pets young and healthy. Taking your pet outside for some much needed fresh air on a long walk or jog is a must. The beautiful weather ensures this walk is not only great exercise but it's a good time as well. Making sure you're using the correct collar or harness is imperative when taking your pets outside. If you're dealing with a puller or the dreaded collar slipper using a limited choke collar like a martingale will be important for training and their safety. A harness can be another great tool especially if you have a dog with neck issues as a harness redirects any pulling from their neck to their chest or back. Picking the right leash can be just as important as their collar! The best leash to use is a fixed lead as this gives your pet just enough length and you the perfect amount of control. Fixed leads come in a variety of styles like single, double, over the shoulder or even around the waist with each being perfect for an array of activities. Whether you're taking your pet on a hike, jog or simply a walk around the neighborhood the perfect collar and leash will be essential for your pet. But being constantly on the go isn't the only good form of exercise for your pet. Try throwing the ball around or as it gets warmer a little swimming in the pool! The important part is to just keep moving. For cats using teaser toys like the ones attached on a pole will be of the utmost importance to keeping them active. Flicking around these toys can keep your cats running, jumping, and rolling all over your living room. Giving your cats toys filled with catnip or even just throwing a catnip party can also help to keep your cats moving all on their own. If you have a safely secured screened in porch a little fresh air while playing will also be good.
Now that your pet is physically fit let's boost their bowl too! You've definitely heard us mention the raw diet a time or two but it really is one of the best things you can give your pets! Why is raw the easiest and best diet for your pets? It's because nothing has been cooked out of it or destroyed which means your pets can break down and absorb more nutrients! Not only is raw the perfect meal it also makes the perfect topper! This nutritious mixer comes in a frozen raw form and freeze dried! Freeze drying means the raw food goes through a process that preserves the nutritional content of it by freezing it before drying it and removing all of the moisture! This means you don't have to worry about keeping it in the fridge but you still get all of the benefits of the normal frozen raw! The freeze dried toppers are perhaps one of the most common ways of adding raw to your pets diet but the frozen can be just as easy to use both in its patty and crumble forms.These frozen and freeze dried toppers come in a variety of ways that even the pickiest of eaters will enjoy with a real kick of nutrients. Adding even 10% raw to a diet is a huge boost for any animal with a multitude of benefits. Dogs and cats who enjoy a diet with the addition of raw experience cleaner teeth, a healthier coat and even better energy levels. But raw isn't the only way to kick up your pets' bowl. Adding raw goat milk has many benefits as well since it's full of probiotics, enzymes, minerals, electrolytes and fatty acids and with added ingredients like cinnamon, turmeric and ginger it's sure to be a hit with even your picky pets. Bone Broth is another great topper that's also perfect for your pets joints and digestion. Especially rich in glucosamine, chondroitin and hyaluronic acid which means it'll help keep your pets doing the things they love like running and swimming this year.
You can also boost their bowl with supplements like Bee Pollen, Sea Kelp, and coconut oil! Bee pollen is rich in antioxidants, amino acids, enzymes, vitamins, and minerals. It's also a natural source of zinc, manganese, copper, calcium, magnesium, and potassium. Using Bee Pollen regularly is most effective in reducing histamine levels which means adding bee pollen to the system will help to avoid allergic reactions and illnesses while boosting the whole body. Sea kelp is full of iron, calcium, and pantothenic acid; it's also considered the world's most potent source of naturally occurring iodine! This ensures your pets won't suffer from any deficiencies that affect a healthy thyroid. Coconut oil is also amazing for pets as it helps to break down yeast and fungal infections in the body. It's also beneficial in nutrient absorption and keeping our pets' coats soft and shiny and best yet they love the taste!
So there you have it, even if you don't want to completely change your pet's diet you can boost their bowl and immune system. Keeping our pets healthy and active will help to ensure they live a long happy life. Boosting their bowls with raw or adding supplements like bee pollen will make sure our pets have a new leash on life and are ready to face 2021 head on!